Periodontal Therapy Apex and Cary NC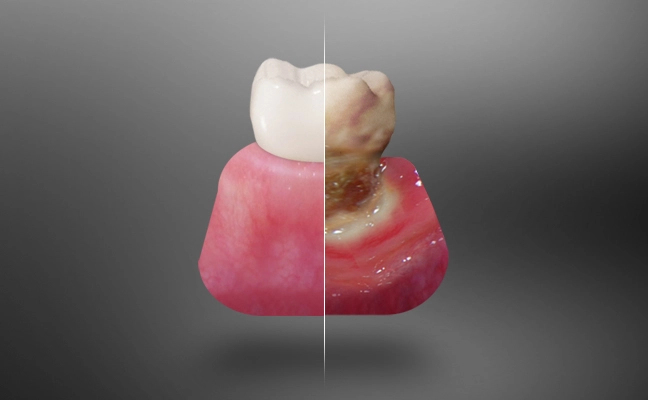 The soft gum tissues, the supporting bone and the periodontal ligament of a tooth combine to form the periodontium. The soft gum tissues play a vital role in sealing the root of the teeth from the external environment to keep harmful bacteria away. Periodontal therapy is essential to make sure that the soft tissues are protected from bacterial infection. At Apex Smiles Family and Cosmetic Dentistry, our dentist treats a number of dental problems. Our periodontal therapy in Apex, NC has helped many patients from the city, Cary and other surrounding communities in protecting natural teeth and improving oral health. If you have gum irritation, bleeding gums or swollen gums, make an appointment and meet our dentist at the earliest.
Periodontal disease – How it occurs?
Plaque is a biofilm of bacteria that is formed over natural teeth. When plaque formation increases at the point where gums and teeth meet, the bacteria start to irritate the soft tissues. As a result, the gums may swell and there may be bleeding when brushing teeth. There are basically two stages of the infection.
The initial stage is called gingivitis. In this stage the gums are irritated and there is swelling. There can be foul smell because of the infection. If left untreated, the plaque accumulation continues and the bacteria start to detach the gums from the teeth to form gum pockets. The gums recede towards the root of natural teeth and there will be teeth loss. This second phase is called periodontitis.
Types of Periodontal Therapy in Apex and Cary, NC
There are two types of treatment for periodontal diseases. Depending on the stage of periodontal disease, the dentist starts a procedure to ensure that the bacteria are kept under control. To check the status of gums, the dentist performs periodontal probe where the length of gum pockets are checked. On observing periodontal disease, the dentist performs appropriate treatment to cure the same. Scaling and root planing are the most commonly performed periodontal treatment. The dentist uses different instruments to clean gum pockets and remove bacteria from the area.
The surgical treatment of periodontal disease involves removal of harmful bacteria and reconstruction of soft tissues to ensure they are attached to teeth surface.
Call our office for a comprehensive oral check up to know the status of your gums. Our periodontal therapy has brought healthy smiles in patients of Apex, Cary and surrounding communities.