Dental Veneers in Apex and Cary NC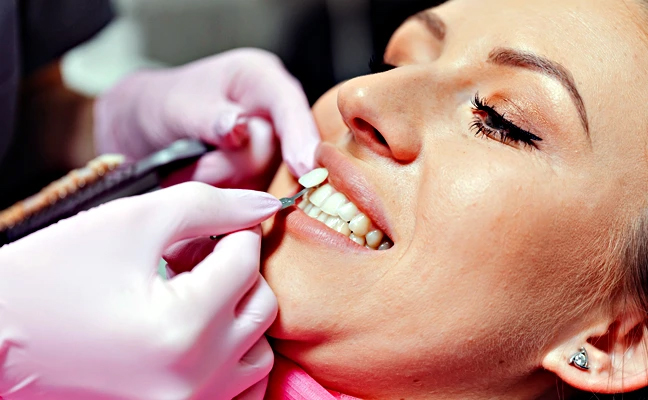 Your beautiful smile can be overshadowed by minor teeth imperfections. Correct proportions and color of teeth can make a big difference in esthetics of the smile. There have been many cosmetic appliances developed in the field of dentistry to reshape teeth. Among the many ways of treating teeth errors, dental veneers in Apex and Cary, NC are widely recognized for their ability to transform the appearance of teeth. They are thin layers that are customized to reshape the front teeth. Our dentist treats a number of teeth errors using these thin shells. Thanks to his experience and skills, we have successfully given life to smile desires of many of our patients from Apex, Cary and surrounding communities through our dental veneers treatment. If you an idea of your dream smile and want to work towards it, make an appointment and meet our dentist at the earliest.
Dental veneers and Your Teeth in Apex and Cary, NC
The visible front teeth have a great impact on your smile. The size, shape, alignment and color of teeth can make big difference in the appearance of the smile. Crooked teeth, chipped teeth, discolored teeth and misshapen teeth can spoil the show for a person. Dental veneers Apex and Cary, NC are developed to treat such minor problems by preserving natural teeth as much as possible. The thin shells are made of porcelain material which looks very natural. They are custom-shaped to rightly fit over the front surface of the teeth, masking the errors. Thanks to these thin shells, you can see a major difference in the smile. The treatment plan and execution plays a key role in the success of dental veneers.
Dental Veneers Treatment Process Apex and Cary, NC
Dental veneers require a small portion of front surface of natural teeth to be removed. This is called teeth preparation. During the first consultation our cosmetic dentist thoroughly checks your teeth and takes images. He makes a note of the changes you expect from the treatment and sets a treatment plan accordingly. Local anesthesia is used for teeth preparation. Using depth reduction burrs small amount of front layer of teeth is removed. The dentist then takes impressions of teeth and prepares temporary veneers at office. These temporaries cover the front surface of the teeth until the permanent ones get prepared in the lab. During the next visit of dental veneers in Apex and Cary NC, the dentist removes temporaries and cleans the area before bonding the permanent veneers over front teeth.