Dental Inlays Onlays in Apex and Cary NC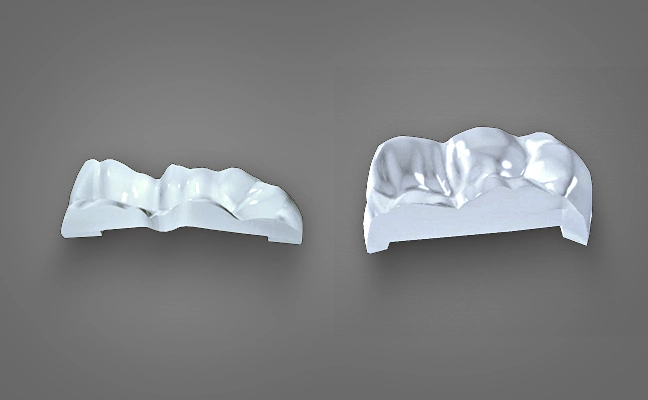 A decayed or damaged tooth can be repaired using appropriate dental restorations. Teeth restorations aid biting and chewing functions by providing physical support to the weak/damaged tooth. Starting from dental fillings, there are a number of types of restorations used in our dental office based on the extent of the damage. Dental inlays and dental onlays are used when the decay has destroyed some part of the biting surface of the tooth. Our dentist chooses an inlay or an onlay when found that the damage caused to the tooth is not large enough to require a dental crown for restoration. Make an appointment and visit our dental office in Apex, NC to know more about our dental inlays and onlays. Our comprehensive dental treatment has helped improve oral health of patients from Apex, Cary and surrounding communities.
Benefits Of Dental Inlays And Onlays
When your tooth is damaged by infection or from an injury an inlay or onlay can help reshape it. Inlays and onlays have a number of benefits that have made them popular in restorative care.
The process does not require more of the natural tooth to be removed which is actually the case with dental crowns. Natural tooth can be preserved to a greater extent.

The restoration is commonly made of porcelain that looks very similar to natural tooth. This is a cosmetic advantage of dental inlays and onlays which finely fuse with natural tooth

The restorations have commendable toughness and are capable of lasting for many years.
Dental Inlays And Onlays Restoration Procedure
The procedure of restoring a damaged tooth using inlay or onlay is a lot similar to that of dental crowns. The preparation of tooth involves removal of a very small portion of the natural tooth. The dentist takes impressions of the tooth to send it to the lab. Temporaries are prepared in our office and are cemented over the prepared tooth until the next visit. Inlays/onlays are fabricated in the lab and sent to our office.
During the next visit, our dentist removes temporaries and cleans the area. The fit and finish of permanent inlays/onlays are checked before they are cemented over tooth.
Do you have damaged tooth? Visit our Apex office for a consultation. Our dental inlays and onlays may help you protect your tooth and improve your chewing efficiency.